Private Openstack Clusters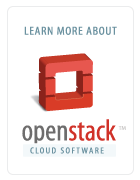 Delimiter has been building OpenStack clusters for many years.
We have two ways to deliver Private OpenStack Clusters:
Components – Unmanaged
We deliver you a number of servers with public and private networking, private NFS storage and you can setup your compute cluster as you prefer.
Managed
You tell us what you need and we'll build your cluster exactly to your specification. We can also build private clusters for HIPPA and SOX environments.
For multi-site we can deliver private capacity between our datacentres, as well as provide private interconnect to your premises.
Private Clusters are a bespoke solution. Please contact us with your requirements and project timescales and we'll come back to you to discuss configuration options.