Anti-spam Filtering and Anti-virus Protection
Delimiter's MXScrub anti-spam filtering service stops email spam and virus dead in their tracks.
Unlike many anti-spam services, ours requires no changes to your email client. Our platform sits between the Internet and your mailserver. One DNS change is all that is required and is compatible with all email servers and service providers.
MXScrub ends your spam and virus chaos in less than fix minutes
Three Pass Spam Filtering

Three-pass spam filtering using Cyren RPD, Cyren IP Reputation and our optimised SpamAssassin quickly identifies and removes spam.
Emails that make it this far and then verified using DMARC and SPF to catch unauthorised senders.
Three Pass Anti Virus
The final stage takes the email first through Sophos anti-virus, then through Clam anti-virus then finally through Cyren AV.
DANE Email Encyrption
We already support DANE (RFC 6698) for industries that require or recommend encrypted email transmission.
Granular Control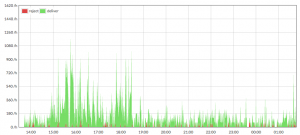 Delimiter MXScrub allows you to whitelist,blacklist by domain, email address or IP level; as well as real time statistics to see traffic data:
Pricing
Rather than charging per email address, we charge per domain. Prices start at $10/year per domain.